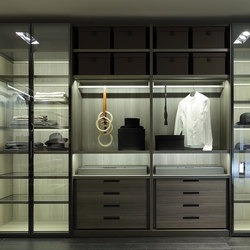 Now ladies, let me explain why we need custom fitted wardrobes in our bedrooms.
We all know that we need many various items of clothing  in our wardrobes to accommodate the various roles we must dress accordingly for, during our daily lives.
Whether we are mother, girlfriend, housewife, gardener, sportswoman, lady of leisure, employee, or the boss, we all need to be dressed in appropriate attire.
Of course with each role we dress for, comes the footwear, headwear and handbag (at the very least) and for many of us there are also the scarves, costume jewellery and precious jewellery.
All these items of clothing and accessories need to be stored in wardrobes which provide easy viewing and access to the stored items.
Busy women need to be organised, therefore well designed custom fitted wardrobes are invaluable to those of us who have several roles to play each day.
The standard walk in wardrobes these days, do not cater for the storage needs for those of us who have a lot of clothes and accessories.
Custom Fitted Wardrobes Make Life Easier For The Busy Woman
Our clothing requirements are an essential part of our lifestyle and it makes sense to keep them maintained and stored well in a space that provides plenty of sensible shelving, various lengths of hanging space, as well as drawers for lingeree and smalls.
We spend a lot of money on our clothing, so let's look after it, in an organised and functional space.
Ample wardrobe storage is missing in a lot of homes today, however with the right advice from those in the business of custom designing and fitting wardrobes, smart storage solutions are just a phone call away.
If you are a busy person who wears more than one hat, why not pick up the phone today and call the team at Flexi.
The team at Flexi, believe in looking after you and making sure you get the very best service at all times, taking the time to sit with you in the comfort of your own home and work with you to plan out the fitted wardrobe of your dreams.
The experienced staff will be able to provide you with ample inspiration and ideas to ensure your custom wardrobe design reflects your lifestyle and personality, including wardrobe doors available to suit the existing decor in your bedroom.
Beautiful doors not only enhance the overall look of your wardrobes but also compliment the rest of the room.
Flexi's extensive range of doors means that you are certain to find the perfect finish to your wardrobe.
You will be amazed at the clever storage solutions available and how smooth the design, build and installation process is.
Contact Flexi's wardrobes team today on (08) 9301 4200.
April 9, 2018